On holiday with the stroller
Beautiful holidays in contact with nature for babies on holiday with strollers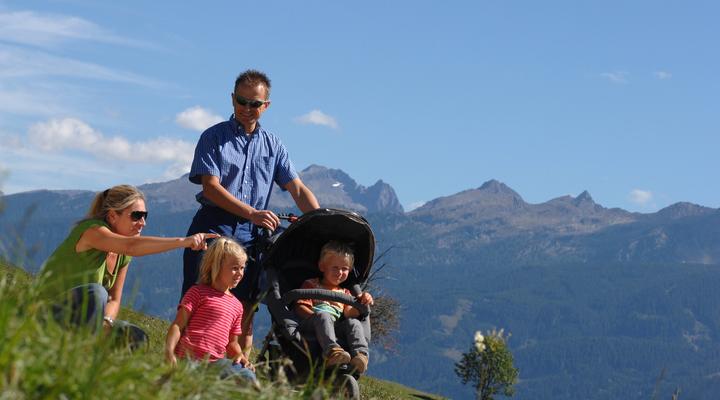 Moms and their babies will enjoy beautiful strolls and spend pleasant moments on holiday in contact with nature, among the green woods and on the comfortable paths of the Fiemme Valley.
From Pampeago to Hut la Mens… Drive up to Pampeago, then take the partially asphalted road leading to the Zischgalm e Ganischgeralm mountain huts. You can then continue towards Pampeago Pass till the the crossroads and then turn right towards the la Mens hut. Easy excursion of about two hours.
Covered bridge of Panchià… Starting from the playground in Ziano di Fiemme proceed on the path along the Avisio river heading south, cross the first bridge and keep going straight on till the covered bridge. To go back, go over the bridge and turn left: you will be passing close to the sawmill of the Magnifica Comunità di Fiemme. At the roundabout, cross the bridge and you will be back again in the playground. Easy walking of about 2 hours.
Salanzada – Doss dei Laresi… from the place called Salanzada take the dirt road to the Doss dei Laresi. Easy walking of about 2 hours.
Sentiero Marciò… The walk, starting from the parking next to the Visitors Centre in Paneveggio, is a circuit which passes on a suspended bridge on the Forra del Travignolo. Easy walking of about 1.5 hours.
Val Venegia… From Tesero drive till Predazzo and then take the road to the Rolle pass. After the Natural Park of Paneveggio turn left heading for the Valles pass. Finally, turn right towards road Val Venegia. Easy walk of about 75 min.